maltCert Certificate Minimum Requirements
From Barley Malt to the delivered, finished Malt
maltCert Certificate – the independent Quality Seal
At the end of a successful malthouse audit, our maltCert Certificate will be issued, together through an in-depth report.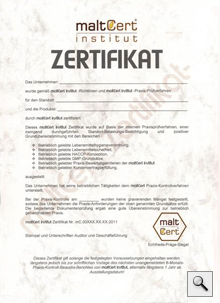 Many companies in the beverage industry are DIN ISO, HACCP or IFS certified according to and have committed themselves to act in a pre-determined structure and to comply with pre-set specifications.
But this does not automatically lead to a better product quality.
This is where we go to work with our practice-test!
We check all the facts on-site in an in-depth Quality-Audit, using a very specialized checklist. In a preliminary meeting with the brewery, we discuss the quantity-related and contractual specifications and where to set the priorities.
Our core qualification is to support you independently to improve your quality assurance, transparency, cost control and product security.
Before we issue a maltCert Certificate, there are certain minimum requirements to be fulfilled by the malthouses, on the basis of a pre-defined point system. Only if these are reached, we will issue our Seal of Approval.